RankVira's Digital Production team live and breathe creative content from day one. We're an experienced team of film makers, photographers and digital designers & producers who are not only passionate about what we do, we're pretty good at it too.

APPLICATION DEVELOPMENT

Our team has intensive experience on application design, web base and mobile.

VIDEO AD PRODUCTION
We offer our clients video production solutions to successfully market their business on all fields. We specialize in advertising commercials, music videos, photography and post production editing.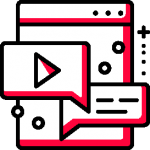 Our team will be able produce quality scripts needed to implement your vision into a visual output.

GRAPHICS DESIGN AND ANIMATION
Our team of digital graphics producers can create beautiful and engaging designs that help you stand out from the rest of the crowd and effectively market your business.

WEBGL PRODUCT PRESENTATION

We offer our presentation solutions to send a 360 real time look of a product to client using the power of 3D and WebGL and Unity.